LPG Cylinder Valve Changing Unit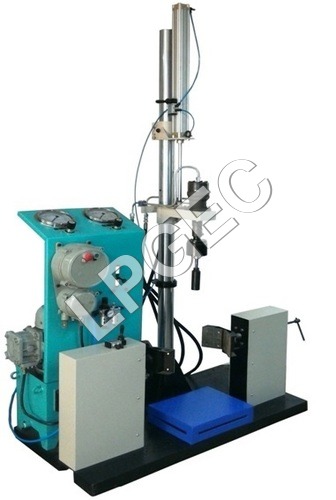 LPG Cylinder Valve Changing Unit
Product Description :


Hydraulic Operation of the unit to ensure:

Smooth, quiet & effortless operation.
Accurate torque setting with minimum error for valve tightening.
Repeatable accuracy of tightening torque.
Easy valve unscrewing from cylinders.

Inbuilt "ANTI-JERK" feature incorporated within the shaft & socket holder assembly.
Unique inbuilt mechanism to adjust socket position over the valve for perfect mating.
Pneumatic Clamping & accurate centring facility for the LPG cylinder.
Pneumatic operation for effortless and smooth, lowering and rising of the Hyd. Motor assembly & valve socket, over the LPG cylinder.
Minimum floor space requirement for the unit.
Capacity - 60 cylinders per hour (after setting up machine for, "Start of Operation")
Extra Table provided for small size cylinders placement on platform.
Get in touch with us